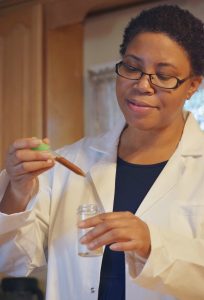 My new tagline for Simple Preparations is "Where diet and spirituality meet." This is no coincidence. Simple Preparations knows that many people desire to be involved in their health, but lack education regarding how diet and spirituality connect to health. This is where this blog comes in with its sole focus on plant-based food, which has been shown to prevent disease and promote healing. Therefore, the goal of Simple Preparations is to help you improve your physical, mental, and spiritual health one meal/experiment at a time. Amen!
Simple Preparations was established to provide delicious plant-based recipes, food preparation guidance/tips, and general education on the connection of diet and disease — all geared toward helping you live a healthier life.
The Plant-based Diet
What is a plant-based diet? The plant-based diet is comprised of fruits, vegetables, and then grains, and nuts. The plant-based diet food pyramid looks very different from the regular food period (See below). In today's world, many people depend on the supermarkets for their produce, nuts, and grains; so in order to maintain optimal health, a knowledge of what to look for, especially in regards to food labeling, is presented in the Simple Preparation education.
Plant-based Diet Food Pyramid
Simple Preparation sends out a Call to Action: Resolve to know more about the substances that may increase or decrease your health. Resolve to understand that there are daily practices that you may think are healthful, but are harmful. Resolve to do better (take action!) once you learn this knowledge.
Knowledge is empowering to you, but only through action. It will help you make right choices and avoid pitfalls to health that you never saw coming. Practicing right habits will also enable you to live a more complete life. But, did you know your spiritual life is directly impacted by your diet and appetite?
Physical and Spiritual Laws of Health
Simple Preparations values a wholesome approach to health by adhering to both physical and moral laws as prescribed in the Word of God, which help mind, soul, and body. If the body is out of kilter spiritually, it will be off-balance physically, and vice versa. The physical law encompasses God's Eight Laws of Health (pure air, sunlight, temperance, rest, exercise, proper diet, use of water, and trust in Divine Power). The moral law relates to God's Ten Commandments, which acts to convert the soul (Exodus 20:3-17; Psalms 19:7 KJV).
The Ministry of Healing, a book by Ellen G. White, provides practical guidance into the Eight Laws of Health. In another book, she states that "… instruction should be given in the preparation of healthful foods" (Testimonies for the Church, Volume 7, p. 132). She also stated that educators must teach "those who desire to live healthfully" to make "the simple preparations that all can make for themselves" (Testimonies for the Church, Volume 7, p.133). Many are now yearning to do what they can within their means, Simple Preparations desires to educate and train the people to place plant-based meals upon their tables.